Submitted by Portumna Retire... on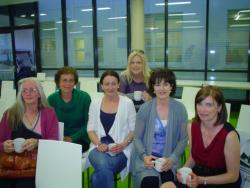 Nursing Staff from Portumna Retirement Village attended a presentation on Think Ahead, a tool devised to assist people in discussing and recording their preferences in the event of an emergency, serious illness, or death.
The presentation was held at Nenagh Hospital. The primary speaker at the presentation was Dr Brendan O'Shea FRCGP, MICGP and the attendees found the presentation very interesting and are confident that the 'Think Ahead' pack will prove to be a very useful tool.
Pictured at the presentation are nursing staff from Portumna Retirement Village, (left to right, Liz Lowson, Louise Byrne, Mary Herron, Fidelma White, Alicia Williams, Michelle Kelly)